Hubungan Antara Pembuatan Keputusan Konsumen Dengan Kesetiaan Merek
Jamaludin Kamarudin

Universitas Muhammadiyah Mamuju

Nursiah Nursiah

Universitas Muhammadiyah Mamuju
Keywords:
shopping orientation, purchase criteria, self-image, brand loyalty
Abstract
A number of empirical literature and research results have explained that brand loyalty is a conscious or unconscious consumer decision which is expressed through behavior or intention to repurchase a brand continuously, it occurs because consumers feel that the brand offers actual product features, image, or level of quality at a real price. This paper aims to explore theoretical and empirical frameworks about the effect of shopping orientation, buying criteria and self-image on brand loyalty. The research model that will be used is a replication of the model developed by. by Oh. J and Fiorito. S.S (2002) entitled "Korea woman's Clothing Brand loyalty". The resulting model identified 3 independent variables namely: shopping orientation, purchasing criteria and self-image and 1 dependent variable namely: brand loyalty. The model was analyzed using multiple regression methods. The results of this research show that multiple regression can explain the factors that influence brand loyalty. Based on a sample of 100 respondents from 4 hypotheses, it shows that shopping orientation, purchasing criteria and self-image have a positive effect on brand loyalty.
References
Dharmesta, B. S., 2003. Sikap dan Perilaku Konsumen Dalam Pemasaran: sebuah tinjauan Social-kognitif. Kajian Bisnis, 23: 1-25.
Ghozali, I (2002). Aplikasi Analisis Multivariate dengan Program SPSS (4th ed.).Semarang: Badan Penerbit-Undip.
Hair, J. R, R.E. Anderson, R.L. Tatham, & W.C.. Black., 1998. Multivariate Data Analysis, 5 th De. Upper Saddle River, NJ: Prentise-Hall, Inc.
Kotler. Philip. 2007. Marketing Management, Analysis, Planning, Implementation and Control, Seventh Edition, Englewood Clifs, Prestise Hall International Inci.
Kotler, Philip dan Keller, Kevin Lane. (2011). Manajemen Pemasaran. Edisi Keempat Belas. Jakarta: Indeks
Kotler, Philip and Gary Armstrong. (2012) . Prinsipprinsip Pemasaran. Edisi. 13. Jilid 1. Jakarta: Erlangga
Oh. J dan Fiorito. S.S (2002), Korean Womwn's Clothing Brand Loyality. Journal of Fashion Marketing and Management
Sanusi, Anwar, 2011, Metodologi Penelitian Bisnis, Jakarta, Penerbit : Salemba Empat
Sekaran, U. 2000. Research Methods or Business: A Skill Building Approach, 3 ed. New York: John Willey & Sons, Inc.
Sugiyono, 2019. Statistika Untuk Penelitian. Alfabeta
Suryani, Tatik, 2013, Perilaku Konsumen di Era Internet, Yogyakarta,
Graha Ilmu, Yogjakarta
Vika Mitra Ifana., Suryani Tatik. 2017, Pengaruh citra merek, kepercayaan merek, dan kualitas layanan pada loyalitas merek pakaian ZARA, Journal of Business and Banking, Volume 6 Number 2 November 2016 – April 2017.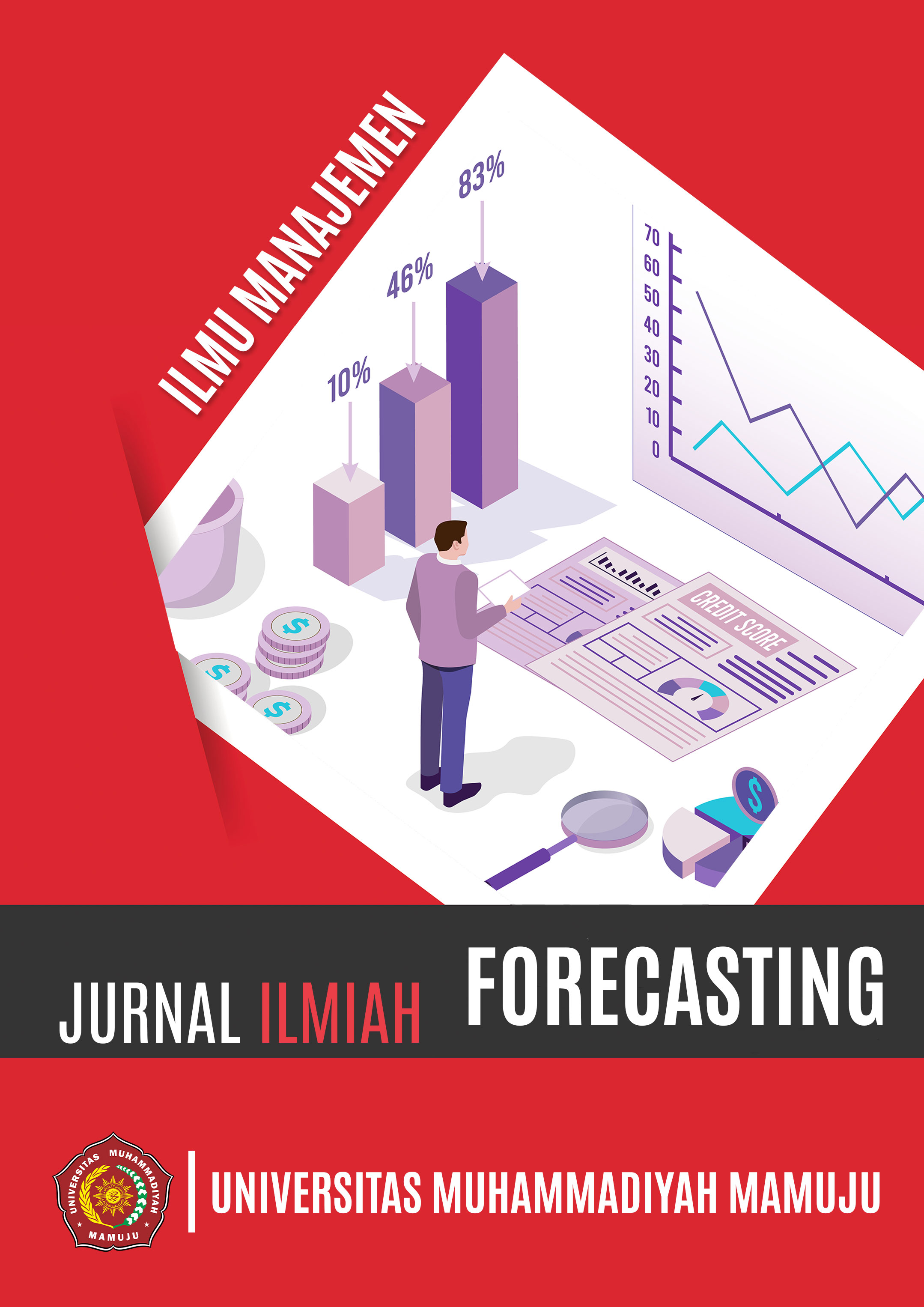 Copyright (c) 2023 Jamaludin Kamarudin, Nursiah Nursiah
This work is licensed under a Creative Commons Attribution-NonCommercial-NoDerivatives 4.0 International License.
Forecasting: Jurnal Ilmiah Ilmu Manajemen