Pengaruh Citra Merek, Harga dan Promosi terhadap Keputusan Pembelian Produk Sepatu Merek "NIKE" dikota Jepara
Theresya Calvary

Universitas Terbuka

Syahrinullah Syahrinullah

Universitas Terbuka
Abstract
A company needs to work hard and always innovate in products or services to survive in competition and be able to attract the attention of potential customers who will buy their products. Businesses must know what the expectations and needs of consumers are now or in the future. Compare products with each other, get information either through advertisements or recommendations from the public, and choose to buy. The process by which a buyer purchases or acquires an item is referred to as a product. The number of consumers who buy goods in this study cannot be determined. The research sample was 100 people who were surveyed or buyers who bought Nike shoes in the city of Jepara. A sampling method called purposive was used to give questionnaires to customers in Jepara who buy "NIKE" brand shoes by considering or comparing among others: consumers who buy "NIKE" brand shoes in Jepara who live in Jepara city, aged 17 years and over, and at least have bought "NIKE" brand shoes in Jepara. The analytical tool in this study is multiple linear regression. Studies show that brand image, promotion and price influence consumer decisions to buy "NIKE" brand footwear in Japara.
References
Alex S.Nitisemito. (2014). Marketing (Ghalia Indonesia, ed.). Jakarta.
Amron, A. (2018). Buying Decision in the Consumers of Automatic Motorcycle in Yogyakarta, Indonesia. Journal of Marketing Management. Vol. 6, No. 1, Hal. 90-96. ISSN : 2333-6080.
Engel, J. F., Blackwell, R. D., & Miniard, P. W. (2001). Perilaku Konsumen, Jilid 2. Jakarta: Binarupa Aksara. Fatmala. (2018). Pengaruh Citra Merek dan Kualitas Produk terhadap Keputusan Pembelian Kosmetik Wardah.
eJournal Administrasi Bisnis, eJournal A.
Ferdinand, A. (2011). Metode Penelitian Manajemen Pedoman Penelitian untuk Penulisan Skripsi Tesis dan disertai Ilmu Manajemen. Semarang: Universitas Diponegoro.
Ghozali, I. (2016a). Aplikasi Analisis Multivariate dengan Program IBM SPSS 21 :Update PLS Regresi. Semarang. https://doi.org/10.2307/1579941
Ghozali, I. (2016b). Aplikasi Analisis Multivariete IBM SPSS. In Semarang, Universitas Diponegoro. Ghozali, Imam. (2016). Aplikasi Analisis Multivariate dengan Program IBM SPSS 23.
Ghozali, Imam. (2018). Aplikasi Analisis Multivariate dengan Program IBM SPSS 25.
Ina Ratnasari, E. S. (2016). Pengaruh Kualitas Produk Dan Citra Merek Terhadap Keputusan Pembelian Produk Fungisida PT. Bayer Cropscience Pada Para Petani Di Kecamatan Rawamerta. Vol 15, No 1 (2016).
Kotler. (2013). Manajemen Pemasaran Jilid 2. In Penerbit Erlangga.
Kotler dan Amstrong. (2013). Prinsip-Prinsip Pemasaran Jilid I. In Erlangga. Kotler, P. (2012a). Kotler On Marketing. In Kotler On Marketing.
Kotler, P. (2012b). Marketing management/Philip Kotler, Kevin Lane Keller. Pearson Education International.
Kotler, P., & Keller, K. L. (2016). Marketing Management 15/e. In Prentice Hall. https://doi.org/10.1080/08911760903022556
Martina, T. (2015). analisis pengaruh harga, kualitas produk dan desain terhadap keputusan pembelian kendaraan bermotor merek Honda Jenis Skutermatic". Jurnal Penelitian, Volume. 9.
Mirabi, Vahidreza, D. (2015). A Study of Factors Affecting on Customers Purchase Intention. Journal of Multidisciplinary Engineering Science and Technology, Vol. 2.
NOVIK KRISNAWATI. (2017). Pengaruh Kualitas Produk, Harga dan Pelayanan terhadap Loyalitas Variabel, Konsumen dengan Keputusan Pembelian Sebagai Semarang), Intervening (Studi pada Pengguna Sepatu Bata di. Dokumen Karya Ilmiah | Skripsi | Prodi Manajemen - S1 | FEB | UDINUS | 2017.
Schiffman, L., & Kanuk, L. L. (2016). Perilaku Konsumen Edisi Kedua. In PT. Indeks Gramedia.
Sihabudin. (2015). Pengaruh kualitas produk dan promosi terhadap citra merek handphone samsung. Jurnal Manajemen & Bisnis.
Stanton, W. J. (1996). Prinsip Pemasaran (terjemahan). In Edisi 7, Jilid 1. https://doi.org/10.1051/limn/2011044 Sugiyono, P. D. metode penelitian kuantitatif, kualitatif,dan R&D. , Alfabeta, cv. (2016).
Sumarwan Hartoyo, U. (2015). Pemasaran Strategik: Perspektif Perilaku Konsumen dan Marketing Plan. IPB Press. Swastha, B., & Handoko, T. H. (2000). Manajemen pemasaran: Analisa perilaku konsumen. BPFE, Yogyakarta.
Tjiptono, F. (2014). Pemasaran Jasa - Prinsip, Penerapan, dan Penelitiab. In 1.
Wijayanto, I., dan Iriani, S. S. (2013). Pengaruh citra merek terhadap loyalitas konsumen. Jurrnal Ilmu Manajemen, Vol.
, No.1
Wiwik Widiyanti. (2017). Pengaruh Persepsi Kualitas Produk, Citra Merek dan Media Iklan Instagram terhadap Keputusan Pembelian Produk Ninebox (Studi Kasus pada follower instagram @tempattasdotcom. Vol 17, No 1 (2017).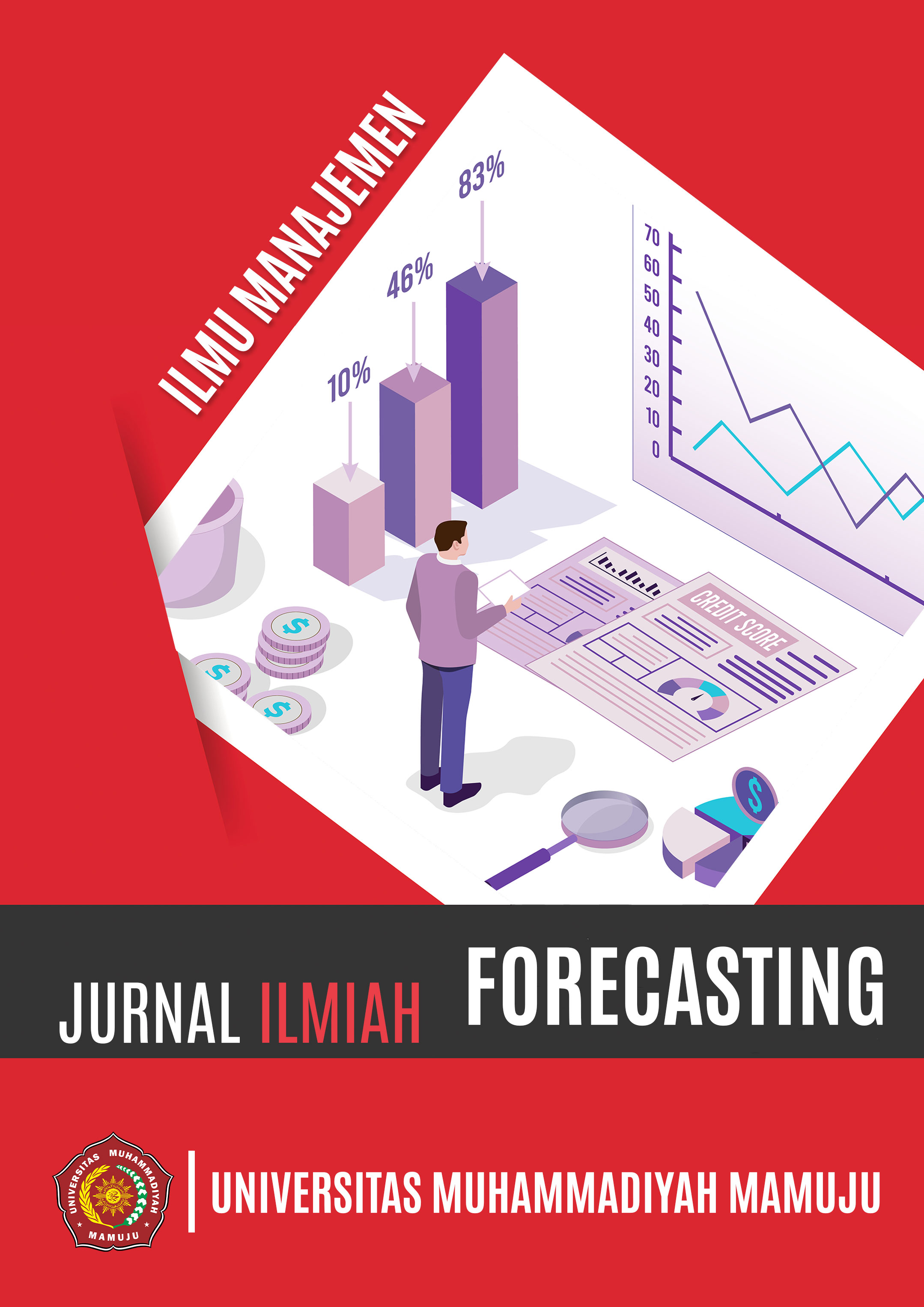 Copyright (c) 2023 Theresya Calvary, Syahrinullah Syahrinullah
This work is licensed under a Creative Commons Attribution-NonCommercial-NoDerivatives 4.0 International License.
Forecasting: Jurnal Ilmiah Ilmu Manajemen