Implementasi Fleksibel Working Space pada Kantor Pelayanan Kekayaan Negara dan Lelang Padangsidimpuan Tahun 2023
Yoel Andreas Pandapotan Hutagalung

Universitas Terbuka

Syahrinullah Syahrinullah

Universitas Terbuka
Abstract
Flexible Working Space (FWS) is a regulation of employee work patterns that maximizes information and communication technology to increase and maintain employee productivity and ensures the continuity of task implementation by providing flexibility in work locations during certain periods. The Flexible Working Space Policy (FWS) is an important breakthrough about how the new normal works after the covid-19 pandemic. This policy aims to maintain the continuity of the implementation of tasks, functions and services in realizing an adaptive, digital-based and integrity Ministry of Finance, increasing organizational productivity and performance as well as balancing employee roles between work and life (work-life-balance). The purpose of this study is to know and analyze the feasibility of the FWS policy at the Padangsidimpuan State Assets and Auction Service Office which is a vertical unit of the Directorate General of State Assets, Ministry of Finance. This study uses a descriptive research approach (survey research), namely making a description of a situation or event that merely accumulates basic data in a descriptive way. The results of this study conclude that the Flexible Working Space (FWS) policy can be implemented within the scope of the Padangsidimpuan State Property and Auction Service Office.
References
Anderson, D., & Kelliher, C. (2009). Flexible working and engagement: the importance of choice. Strategic HR Review, 8(2), 13–18. https://doi.org/10.1108/14754390910937530
Bernstein, Ethan & Turban, Stephen. (2018). The impact of the ?open? workspace on human collaboration. Philosophical Transactions of the Royal Society B: Biological Sciences. 373. 20170239. 10.1098/rstb.2017.0239.
Burnett, S., Gatrell, C., Cooper, C., & Sparrow, P. (2011). Fatherhood and flexible working: A contradiction in terms? In Creating Balance?: International Perspectives on the Work-Life Integration of Professionals (pp. 157–171). Springer Berlin Heidelberg. https://doi.org/10.1007/978-3-642- 16199-5_9
Cowan, R., & Hoffman, M. F. (2007). The flexible organization: How contemporary employees construct the work/life border. Qualitative Research Reports in Communication, 8(1), 37–44. https://doi.org/10.1080/17459430701617895
Dex, S., & Scheibl, F. (1999). Business Performance and Family-Friendly Policies. In Journal of General Management (Vol. 24, Issue 4, pp. 22–37). https://doi.org/10.1177/030630709902400402
DfEE. (2000). Work-life balance: Changing Patterns in a changing world. London: Department for Education and Employment.
Fadhila, A. A., & Wicaksana, L. (2020). Sistematik Review: Flexible Working Arrangement (FWA) Sebagai Paradigma Baru Asn Di Tengah Pandemi Covid-19. Spirit Publik: Jurnal Administrasi Publik, 15(2), 111-130.
Gandini, Alessandro. (2015). The rise of coworking spaces: A literature review. Ephemera Journal Vol.15 No.1, pp.193-205.
Gibson, V. (2003). Flexible working needs flexible space?: Towards an alternative workplace strategy. Journal of Property Investment & Finance, 21(1), 12–22. https://doi.org/10.1108/14635780310468275
Hogarth T, Hasluck C, Pierre G, Vivian D. (2001). Work-Life Balance 2000: Results from the Baseline. Department for Education and Employment Research, Report RR249.
Kementerian Keuangan. (2020). Keputusan Menteri Keuangan Republik Indonesia Nomor 223/KMK.01/2020 tentang Implementasi Fleksibilitas Tempat Bekerja (Flexible Working Space) di Lingkungan Kementerian Keuangan. Jakarta
Leski Rizkinaswara. (2020). Menyiapkan Ekosistem Flexible Working Space. www.aptika.kominfo.go.id.
McGregor, Debra. (1999). Developing Thinking: Developing Learning, Maidenhead. Open University Press.
Moleong, Lexy J. (2014). Metode Penelitian Kualitatif. Bandung: PT Remaja Rosda Karya.
Oseland, N., Webber, C., & Macdonald, M. (2012). Flexible Working Benefits Collated Evidence and Case Studies. www.workplaceunlimited.com
Oxford. (2017). Definition of Co-Working Space in English. Diambil dari : Oxford Dictionaries Website. Tersedia : https://en.oxforddictionaries.com/definiti on/co-working.
Paul, K. (2020). Twitter announces employees will be allowed to work from home 'for- ever'. The Guardian. https://www.theguardian.com/technology/2020/may/12/ twitter-coronavirus-covid19- work-from-home
Robbins, P. S. (2006). Perilaku Organisasi. Jakarta: Erlangga.
Rosidah, A. T. (2003). Manajemen Sumber Daya Manusia. Yogyakarta: Graha Ilmu.
Russell, H., O'connell, P. J., & Mcginnity, F. (2009). The Impact of Flexible Working Arrangements on Worklife Conflict and Work Pressure in Ireland.
Sudarto. (2020). Menuju Paradigma Kerja Baru. https://media indonesia. com/read/detail/298498- work-from-home.
Syam Anugrah. (2020). Flexible Working Space : Tuntutan Masa Depan Dunia Kerja. www.djkn.kemenkeu.go.id.
Tantri Dewayani. (2020). Flexible Working Space (FWS) Sebagai New Normal Kementerian Keuangan Pasca Pandemi Covid-19. www.djkn.kemenkeu.go.id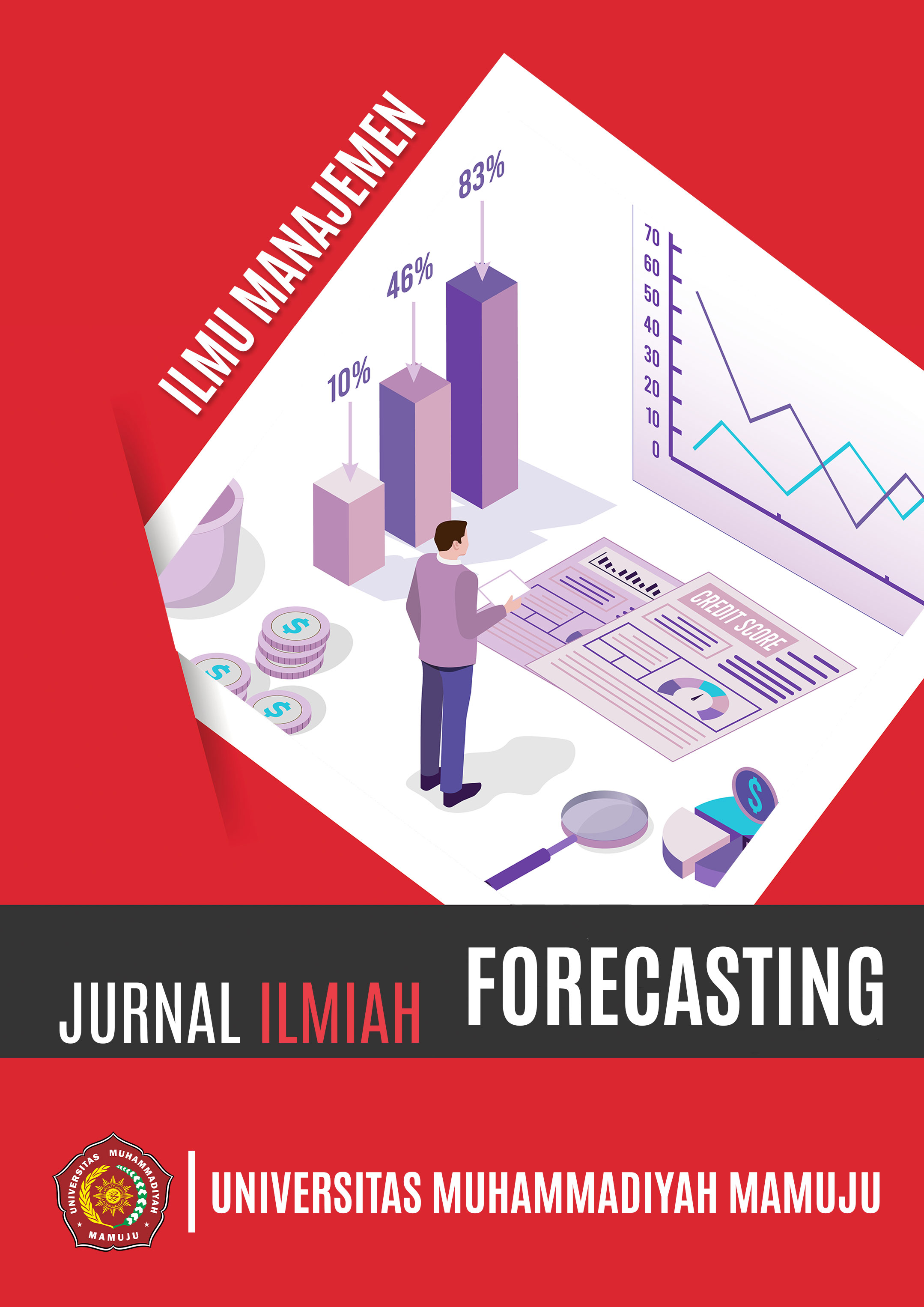 Copyright (c) 2023 Yoel Andreas Pandapotan Hutagalung, Syahrinullah Syahrinullah
This work is licensed under a Creative Commons Attribution-NonCommercial-NoDerivatives 4.0 International License.
Forecasting: Jurnal Ilmiah Ilmu Manajemen