Pengaruh Employee Engagement Terhadap Organizational Citizenship Behavior (OCB) Dan Kinerja Karyawan Pada Bank Mandiri KCP Mandiri Universitas Jember
Nagest Dwi Harsono

Universitas Terbuka

Syahrinullah Syahrinullah

Universitas Terbuka
Abstract
This study aims to determine the implementation of OCB in increasing employee engagement on the performance of Bank Mandiri KCP Mandiri University of Jember employees. The population in this study were all employees of Bank Mandiri KCP Mandiri University of Jember, totaling 30 employees. In taking the sample, the Saturated Sample method/Census Method is applied, which is a technique for determining a sample where all members of the population are selected as samples. The reason for using this method is because the total number of employees of Bank Mandiri KCP Mandiri University of Jember as a whole is 30 employees. The data analysis method used in this research is path analysis. The results showed that employee engagement had an effect on the OCB of Bank Mandiri KCP Mandiri University of Jember employees. Employee engagement affects the performance of PNM Probolinggo Branch employees. OCB affects the performance of Bank Mandiri KCP Mandiri University of Jember employees
References
Abhan, Layaman. 2012. Sisi Gelap Teori Organizational Citizenhip Behavior. Jurnal Al-Amwal. 1(1): 69 – 80.
Agustian, Ary Ginanjar. 2017. Rahasia Sukses Membangun Kecerdasan Emosi dan Spiritual, ESQ: spiritual quotient berdasarkan 6 Rukun Iman dan 5 Rukun Islam. Jakarta: Arga Wijaya Persada.
Albrecht, S. 2012. Handbook of Employee Engagement : Perspectives, Issues,. Research and Practice. UK : Edward Elgar Publishing.
Aljabar. 2020. Manajemen Sumber Daya Manusia. Deepublish.
Anwar dan Gani. 2015. The Effect of Spiritual Intelligence and its Dimensions on Organizational Citizenship Behaviour. Journal of Industrial Engineering and Management. JIEM, 2015 – 8(4): 1162 – 1178.
Buentelo, O., Jung, J., & Sun, J. (2008). Exploring the Casual Relationship Between Organizational Citizenship Behaviour, Total Quality Management, and Performance. In 2008 SWDSI Proceedings. Oklahoma: SouthWest Decision Sciences Institute.
Chiaburu, D. S., Oh, I. S., Berry, C. M., Li, N., & Gardner, R. G. (2012). The five-factor model of personality traits and organizational citizenship behaviors: a meta-analysis. Journal of Applied Psychology. 96(6): 1140– 1160.
Fadhli, K., & Khusnia, M. (2021). Manajemen Sumber Daya Manusia (Produktivitas Kerja). In Manajemen Sumber Daya Manusia (Produktivitas Kerja).
Ghozali, Imam. 2012. Aplikasi AnalisisMultivariate Dengan Program SPSS,Universitas Diponogoro, Semarang
Gomes Cardoso, Faustino. 2013. Manajemen Sumber Daya Manusia. Yogyakarta: Andi Offset
Hakim, Abdul. 2016. Analisis Pengaruh Motivasi, Komitmen Organisasi dan Iklim Organisasi Terhadap Kinerja Pegawai pada Dinas Perhubungan dan Telekomunikasi Provinsi Jawa Tengah. Jurnal Riset Bisnis Indonesia. JRBI, 2 (2): 165 – 180.
Hasibuan, Melayu SP. 2012. Manajemen Sumber Daya Manusia, Jakarta: CV Mas Agung.
Ida Bagus Putu. 2016. Analisis Pengaruh Employee Engagement dan OCB terhadap Kinerja Individu Karyawan (Studi Kasus pada PT Inti Persero). Jurnal Manajemen Maranatha, Vol.16, No.1, November 2016.
Lestari, Endah Rahayu. Ghaby, Nur Kholifatul F. 2018. Pengaruh Organizational Citizenship Behavior (OCB) terhadap Kepuasan Kerja dan Kinerja Karyawan (penelitian pada karyawan PG Krebet Baru Malang). Jurnal Teknologi dan Manajemen Agroindustri. 7(2): 116 – 123.
Mangkunegara, Anwar Prabu. 2012. Evaluasi Kinerja SDM. Bandung: Refika Aditama.
Marciano. 2012. Organizational Communication: Relationship to Organizational Climate and Job Satisfaction". Academy of Management Journal, Vol. 20. No.4. Hal 592-607.
Mathis, R. L., & Jackson, J. H. 2019. Human Resource Management (Manajemen Sumber Daya Manusia). In Salemba Empat.
Milatus Sholiha, H. Hadi Sunaryo, dan Ach. Agus Priyono. 2017. Pengaruh Kecerdasan Emosional dan Kecerdasan Spiritual Terhadap Kinerja Guru An-nur Bululawang-Malang. Jurnal Warta Ekonomi. 7(17): 78 – 92.
Moko, W. 2021. Manajemen Kinerja: Teori dan Praktik. Universitas Brawijaya Press.
Muhammad, B. 2018. Teori-Teori Manajemen SDM. Teori-Teori Manajemen Sumber Daya Manusia.
Nabilah dan Jafar, 2014. Pengaruh Employee Engagement Terhadap Kinerja Karyawan Di Human Capital Center PT. Telekomunikasi Indonesia, TBK. Jurnal Ekonomi Komunikasi. Vol II. Tahun 2014 (35-41)
Robbins and Judge. 2019. Organizational Behavior. In Paper Knowledge . Toward a Media History of Documents.
Schaufeli, W. B., & Bakker, A. B. 2013. UWES, Utrecht Work Engagement Scale. Utrecht: Occupational Health Psychology Unit Utrecht University.
Sedarmayanti.2018. Sedarmayanti (2018:260). Journal of Chemical Information and Modeling.
Shindie, Syamsun dan Lindawati, 2015. Pengaruh Budaya Organisasi dan Employee Engagement terhadap Kinerja Karyawan pada PT PLN (Persero) Area Bekasi . Jurnal Ekonomika. Tahun 2015. Vol I. Hal 12-16.
Siagian, P. Sondang. 2016. Manajemen Sumber Daya Manusia. Jakarta: Bumi Aksara
Sidin, A. I., & Della, R. H. 2021. perilaku organisasi. In Literasi Kencana.
Simanjuntak, Payaman J, 2015. Manajemen dan Evalusi Kinerja. Jakarta: Fakultas Ekonomi UI.
Simanjuntak. (2016). Pengantar Ekonomi Sumber Daya Manusia. Pemikiran Islam Di Malaysia: Sejarah Dan Aliran.
Sugiyono. 2019. Metode Kuantitatif dan Kualitatif. Alfabeta: Bandung
Titisari, Purnamie. 2014. Peranan Organizational Citizenship Behavior (OCB) dalam meningkatkan kinerja karyawan. Jakarta: mitra wacana media.
Wibowo. 2012. Manajemen Kinerja. Jakarta: PT Raja Grafindo Persada.
Zohar, D, Mashal. 2015. Spiritual Capital: Memberdayakan SQ di Dunia Bisnis. Bandung: Mizan.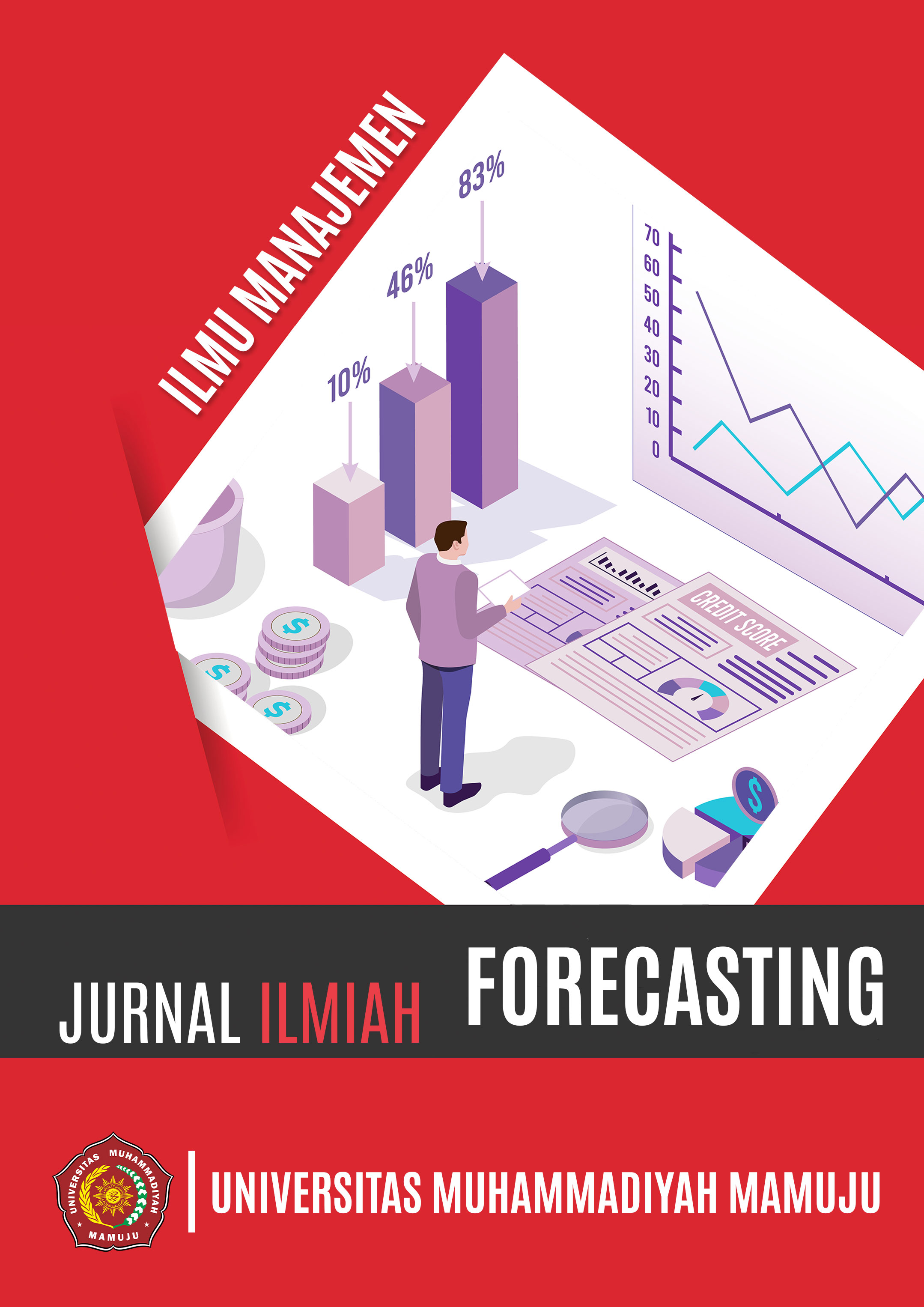 Copyright (c) 2023 Nagest Dwi Harsono, Syahrinullah Syahrinullah
This work is licensed under a Creative Commons Attribution-NonCommercial-NoDerivatives 4.0 International License.
Forecasting: Jurnal Ilmiah Ilmu Manajemen